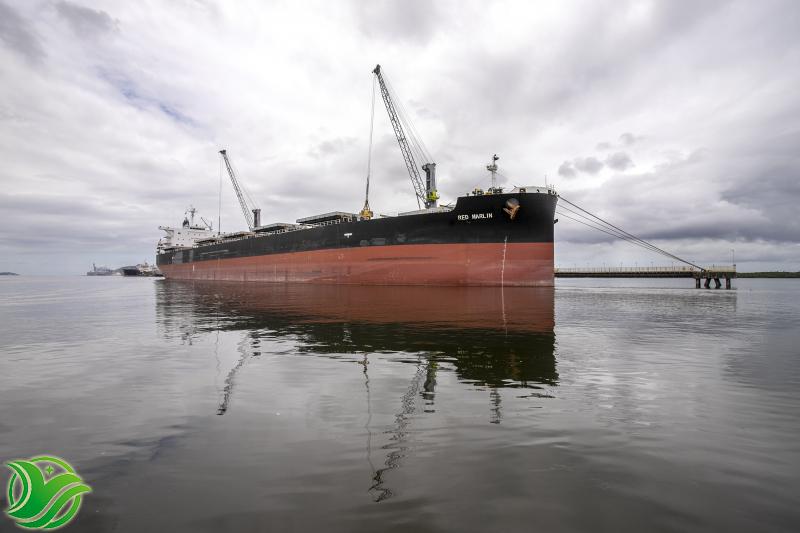 We broke the record of largest fertilizer cargo discharged at Paranagua port from a single vessel !!!
:2023-01-19 Reviews
Largest volume of fertilizer is unloaded from a single vessel at the Port of Paranaguá
01/18/2023 - 3:57 pm
The Port of Paranaguá receives the largest fertilizer shipment in its history. At the exclusive pier for fertilizers, 73,310 tons of ammonium sulfate have been unloaded since last Friday (13). The forecast is that the operation, which depends on weather conditions, will be completed by this Thursday (19).
According to the operations director of Portos do Paraná, Luiz Teixeira da Silva Júnior, before this, until today, the largest load of fertilizer received was with the ship Lord Byron, in July 2022. At the time, 64,777 tons of fertilizers were unloaded based on nitrogen and phosphorus.
"We are receiving larger and more loaded ships thanks to recent investments in maritime infrastructure", said Luiz Teixeira da Silva Júnior. "Works such as the demolition of the Palangana stones and the permanent maintenance dredging provided operational gains for the terminals, with an increase in depth".
The Red Marlin vessel is moored at the external berth of the pier operated by Fospar, which operates with a draft of 12.30 meters. The vessel is 229 meters long and has the capacity to carry up to 85,000 tons of bulk.
The cargo came from the Chinese port of Tianjin, exported by the Yunnan company, represented in Brazil by Fertibroker. The maritime agency responsible for the vessel is Orion.
REFERENCE – The ports of Paraná are the main ports of entry for fertilizers in Brazil. In 2022, almost 10 million tons were imported through the Paranaguá and Antonina terminals. The volume represents 27.5% of all that the country receives in fertilizers.
In addition to the private pier (Fospar), with two exclusive berths, in the Port of Paranaguá there are three preferential berths for ships loaded with solid bulk exports.
At the public dock, ships with cargo can still dock and unload through any other berth that is not occupied.
In Antonina, there are 2 berths that can operate the products.
The static storage capacity of products, in the ports of Paraná, is more than three million tons of fertilizers