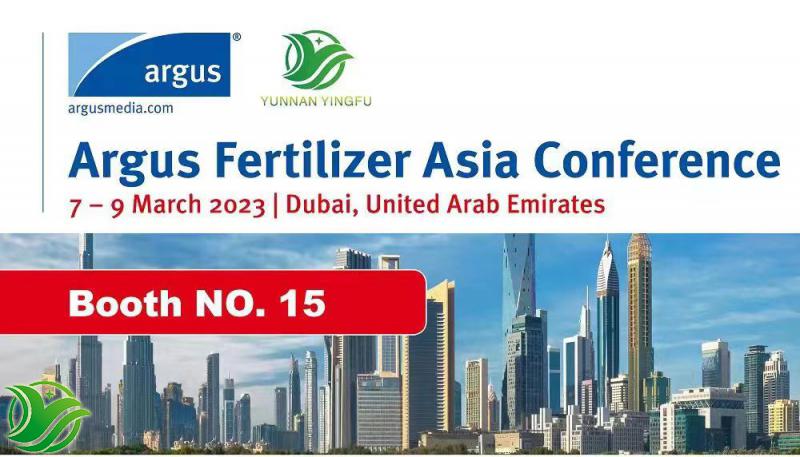 Let us meet in Dubai——Argus Asia Conference
:2023-02-25 Reviews
Greetings from China.
We, Yunnan Yingfu Trading Co., Ltd are a professional company focusing on fertilizer supply. Established in 2009 in Yunnan province, China. We have been dedicated to producing and trading fertilizers for nearly 15 years, including major Nitrogen, Phosphate and NPK. Particularly, we are the leading producer and exporter of Ammonium sulphate in China. In the past 2022, we handled 1.6 million tons of fertilizer total, we exported more than 1.2 million tons of Ammonium sulphate to the South American market and 600,000 tons of other fertilizer to other markets. We have good cooperation with those world-class customers enjoying a good reputation among them.
We always supply high-quality fertilizers at a competitive price, and our product is welcomed by lots of clients in other markets like SE Asia and Africa. In addition, we're running our own granulation plants of 800,000mts capacity a year, supported by excellent logistics in domestic.
Apart from that, we can produce NPK and are also capable of dealing with those fertilizers requiring legal inspections by China customs. We have a lot of experience in this respect ensuring us competent for various inquiries from different customers all over the world, this puts us in a leading position in the competition.
For your info, we are attending the Argus Fertilizer Asia Conference 2023 held in Dubai as registered delegates. By taking this chance, we're looking forward to having a face-to-face talk with your team during/after the Expo to explore potential cooperation, and we'd like to share with you the latest policies and market information on the Chinese fertilizer industry.
Can you please kindly propose a convenient meeting time for you during Argus Fertilizer Asia Conference in order to have a talk at Dubai?